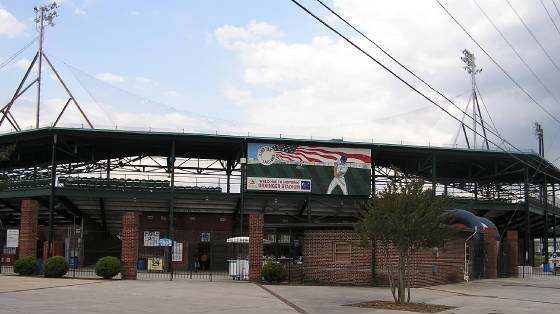 TEAM ::: KINSTON INDIANS
LOCATION ::: KINSTON, NORTH CAROLINA
MY FIRST GAME ::: MAY 15,2006
OPPONENT ::: POTOMAC NATIONALS
LEVEL ::: CAROLINA LEAGUE 'A'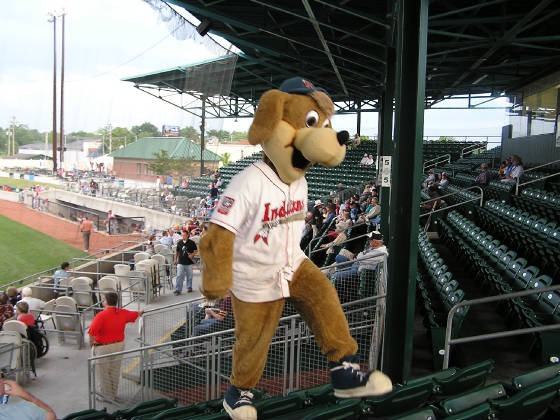 RATINGS
BALLFIELD ::: A
SCOREBOARD ::: C
FACILITIES ::: B
FOOD ::: B
MASCOT ::: A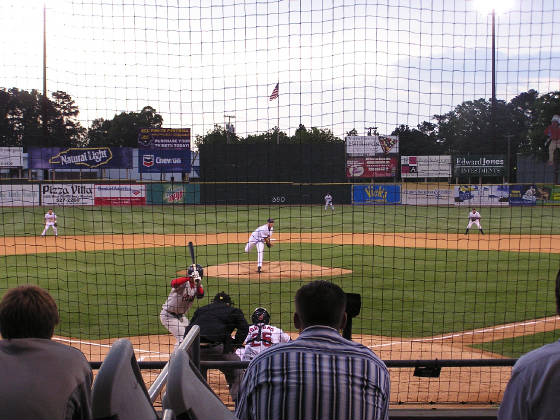 MY TAKE ON THE PARK
IF THERE EVER WAS A PARK THAT I WAS NOT LOOKING FORWARD TO SEEING, IT WAS KINSTON. MY ONLY REASON FOR GOING WAS BECAUSE I HAD SEEN 6 OF THE 8 CAROLINA LEAGUE PARKS AND I WANTED TO SEE THEM ALL. WHAT A SHOCK IT WAS WHEN I FOUND IT THAT KINSTON MIGHT BE ONE OF THE BEST PARKS IN THE CAROLINA LEAGUE.
GRAINGER STADIUM IS LOCATED ABOUT 1/4 MILE OFF THE HIGHWAY, THE SIGN POINTS YOU DOWN A ONE LANE ROAD THAT PUTS YOU INTO THE PARKING LOT. THE LARGE LOT FOLLOWS THE SEATING AREA OF THE STADIUM AND IS FREE. LIKE ALL OF THE OTHER NORTH CAROLINA PARKS I HAVE VISITED, GRAINGER STADIUM IS BUILT OUT OF BRICK.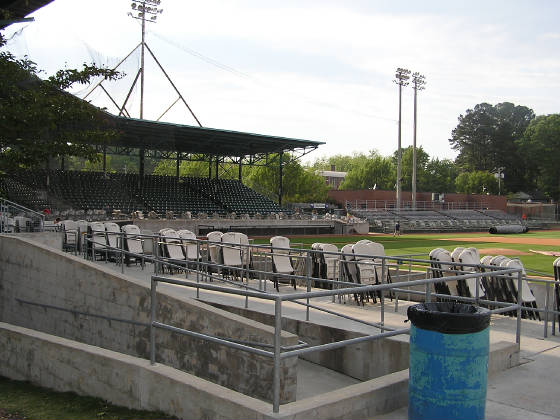 UPON ENTERING THE PARK, I LIKED THE KINSTON INDIANS LOGO PAINTED ON THE WALKWAY AS I HEADED TOWRADS THE SEATING AREA AND MY FIRST VIEW OF THE FIELD. AN IMPRESSIVE FIELD IT IS! IT WOULD ALSO HAVE TO HAVE AN EXCELLENT DRAINAGE SYSTEM CONSIDERING ALL THE RAIN IT TOOK ON MY VISIT. AFTER A RAIN DELAY THAT HAD LASTED 90 MINUTES, THEY ACTUALLY THOUGHT OF TAKING THE TARP OFF OF THE FIELD AND PLAY. HEAVY RAINS STARTED UP AGAIN AND THE GAME I ATTENDED WAS SUSPENDED. MAKE A NOTE, UNLESS IT IS GOING TO RAIN ALL NIGHT, CHANCES ARE THEY WILL BE PLAYING IN KINSTON.
A FEATURE OF THE PARK I DIDN'T KNOW I WOULD BE TAKING FULL ADVANTAGE OF WAS THE ROOF WHICH COVERS THE ENTIRE SEATING AREA. TRUST ME, THE ROOF IS WATER PROOF BECAUSE IT RAINED VERY VERY HARD FOR ALMOST AN HOUR STRAIGHT AND NOT ONE OF THE MODERN GREEN SEATS WAS WET. THE ROOF ALSO MUST BE A BENEFIT IN THE SUMMER MONTHS WITH THE SUN, BUT ON A RAINY NIGHT THE ROOF WAS A WELCOME FEATURE.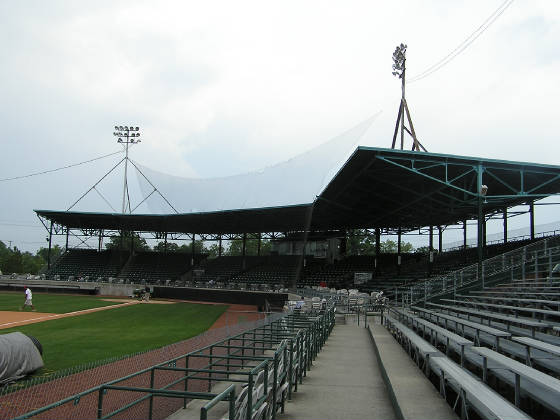 I DIDN'T GET ENOUGH INFORMATION ON THE SCOREBOARD TO MAKE A GOOD JUDGEMENT BUT I CAN SAY THE FOOD IS PRETTY GOOD. HERE THEY SERVE STANDARD BALLPARK FARE BUT IN THE BEER HUT THEY SERVE BEER BY THE PITCHER. $10 FOR A PITCHER AND THEN REFILLS ARE $8. NOT SINCE LYNCHBURG HAVE I SEEN THAT. THE MASCOT, SCOUT IS ALSO VERY GOOD. 'SCOUT' MADE IT A POINT TO VISIT EVERY FAN AT THERE SEAT AND SHAKE THEIR HAND. I WAS SITTING A FEW ROWS BEHIND THE PEOPLE IN FRONT OF ME BUT SCOUT QUICKLY WALKED ATOP THE SEATS AND GOT TO ME. I LIKED THAT A LOT!
I WILL HAVE TO MAKE A RETURN TRIP TO KINSTON. FOR ONE, I HAVE TO SEE A COMPLETE GAME BUT ALSO, I REALLY LIKED THE PLACE. THAT REASON MORE THAN THE FIRST IS WHY I WILL MAKE A RETURN TRIP TO KINSTON.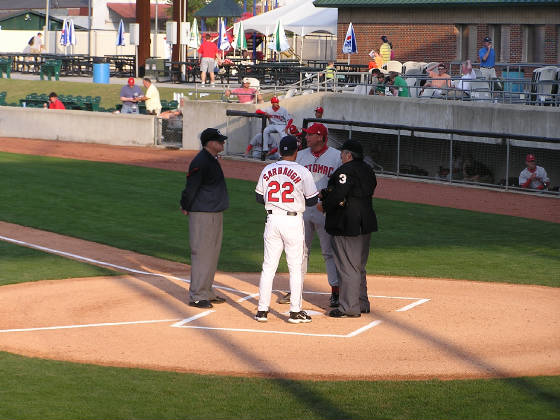 THE LINE UPS
POTOMAC NATIONALS MANAGER :::
27 RANDY KNORR

KINSTON INDIANS MANAGER :::
22 MIKE SARBAUGH


POTOMAC NATIONALS

33 Rogearvin Bernadina cf
2 Trey Webb 2b
13 Brandon Powell 3b
15 Devin Ivany c
43 Tony Blanco dh
25 Marvin Lowrance lf
30 Luke Montz 1b
11 Seth Bynum ss
21 Reggie Fitzpatrick rf
12 Clint Everts p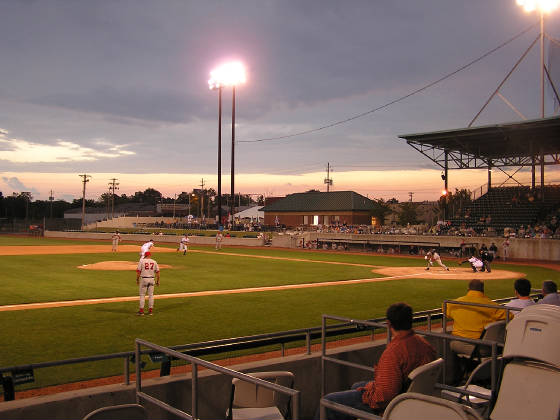 KINSTON INDIANS

8 Argenis Reyes 2b
9 Brian Finegan ss
10 Trevor Crowe cf
29 Michael Aubrey 1b
35 Brian Barton rf
26 Stephen Head dh
25 Wyatt Toregas c
34 Matt Whitney 3b
41 Jordan Brown lf
48 Joe Ness p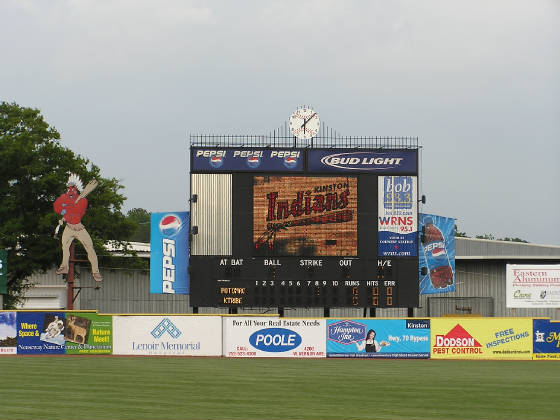 POTOMAC NATIONALS 000
KINSTON INDIANS 00 -
TIME ::: 0:42
ATTENDANCE ::: 612
WEATHER :: MOSTLY CLOUDY WITH VERY DARK CLOUDS OFF IN THE DISTANCE
RAIN DELAY IN BOTTOM OF 3RD. GAME SUSPENDED AFTER 2:09 DELAY BOTTOM 3RD ... 1 OUT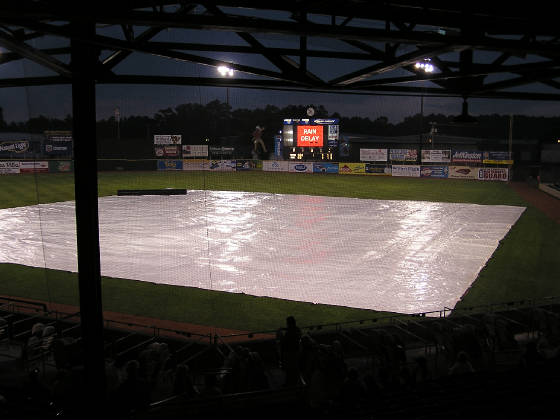 SEND ME AN E-MAIL

LINKS
The Official site of the Kinston Indians
Located about 1/2 hour North of Kinston in the town of Ayden, The Skylight Inn ... Excellent Barbecue .. There is no official web site but this one is first on Google
Kinston weather from WEATHER.com
© 2000-2012 UNCLE BOB'S BALLPARKS
I AM IN NO WAY AFFILIATED WITH ANY OF THE TEAMS ON THIS PAGE ... THIS PAGE IS MEANT FOR INFORMATION PURPOSES ONLY.